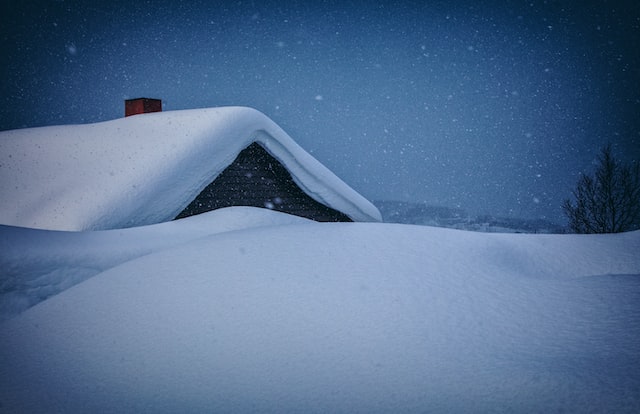 Is your roof ready for winter? Your roof may be your best line of defense against severe winter conditions. It is in charge of safeguarding your house entirely. So, it is advisable to make sure your roof is ready for the job before the cold weather arrives. Roofing in Texas can suffer damage from harsh winters. There's the chance of unexpected repairs. 
Texas does have a winter, but the extent and severity of it vary by region. During the winter, northern Texas, like Amarillo and Lubbock, has colder temperatures and snow and ice storms. Houston, Austin, San Antonio, and other southern cities, have milder winters with less snow. 
It is important to note that extreme weather events can occur even in mild winter regions. For example, in February 2021, a winter storm caused widespread power outages across Texas. This shows how critical it is to be prepared.
The good news is that you can remove ice and snow from your roof by hiring a skilled roofing contractor. You may prevent expensive repairs before harm starts.
In this article, you will learn about the causes that degrade your roof. Besides that, you will explore ways to prep your roof for winterizing. 
Preventing Winter Roofing Degradation
Your roof may damage due to the winter weather. While some roof repairs could be cheaper, others could cost thousands of dollars. 
For shingle roof repairs, you should budget about $575. Frequent rainstorms, snowstorms, or ice can harm your shingles. And if you need to replace your asphalt roof, you should budget up to $6,000. 
Moisture, along with pressure and impact, will degrade the shingles over time. Along with mold and mildew, excess moisture can cause rotting and insulation damage. Make sure your shingles are in suitable condition year-round. 
Wintertime requires extra caution. This is important to cut the damage from rain, snow, hail, and ice. Ice melting and refreezing can form ice dams. As a result, you can face significant structural damage.
Winter Roofing Preparation: Pitched roof
1. Gutter and roof cleaning in the fall
Autumn is the season for leaf peeping. While the colors of the autumn leaves are beautiful. At this time of year, leaves also have a tendency to accumulate on gutters. 
Ensure to clear the leaves from your gutters before winter hits. Leaves may clog the gutters causing water to collect close to your roof. Your roof is then far more vulnerable to water damage and mold growth. This is because the weather is wetter in the winter. 
You can remove all the leaves and other debris from your gutters before it starts to become colder.
2. Removing snow and ice
Clearing snow and ice buildups can solve many winter roof problems. Better to leave snow removal to a professional who can perform the work safely. DIY snow removal is risky.
If you use a conventional snow shovel, you could end up damaging the roof even more. Although it seems tempting to use rock salt or calcium chloride to melt ice. But it might harm the shingles and void any manufacturer's warranties.
You can get our roofing and gutter cleaning service before winter arrives. Contact us to book a free roofing inspection.
3. Make a personal inspection of your roof
Self-inspecting your roof should be one of your top priorities before winter. You can do this by strolling through your house and looking for clear indicators of damage.
What to watch for:      
Damaged or broken shingles       

Any paved areas around the house should have granules (a sign of wearing shingles)   

Faulty flashing        

Small cracks in your roof (could cause leaks)      

Luminous areas on your roof may be a sign of water damage
If you see any of these signs, your property may need at least minor roof repair work. Making notes about your observations is the best course of action. This will make it easier for roofing professionals when they come for an inspection in winter.
4. Walk around your roof:
Climb up to the roof to investigate any damage. Your roofing expert ought to handle this. Roofs can be hazardous, and walking on them might result in more damage than good.
You can walk the roof to check for cracks, debris, and other maintenance issues. If your flat commercial roof is easily accessible, then that's a plus. Your roof should be inspected for:        
smokestacks and chimney capping

a vent cover     

loose shingles, flashings, or tiles      

gutters and drains, used for drainage.        

items such as HVAC units, antennas, security equipment, and more.
5. Cut back drooping trees:
A strong wind or the increased weight might cause trees that are laden with ice and snow to break. You must immediately trim any trees whose limbs are dangling over your roof.
What are the risks of leaving branches dangling from your roof?
Mold may develop if you have branches up against your roof. During a storm, long tree branches could become unsafe and harm your property. Your gutter can be blocked by tree leaves.
On windy days, it could scrape and damage the area of your house and roof it's touching. You run the risk of infecting the remainder of the tree with disease and pests. If you don't clip back the tree branches that are hanging over your property, your house is in danger. It's crucial to provide the trees with the attention they need to flourish.
6. Restrict access to the roof during winter
Having a lot of people wander over your roof is never a smart idea. Your commercial roof should have restricted roof access. However, it is good to make sure that your doors, access points, and roof hatch openings are secure and shut during the winter.
In comparison to dry roofs in the summer, icy and wet roofs in the winter become riskier.
7. Remember to check your chimney
Get your chimney cleaned and examined before winter starts. You might use your chimney during the colder months. And, obviously, you don't want Santa to come down a filthy, soot-filled chimney. 
You will see that lighting your fireplace after a chimney cleaning and inspection has never been easier.
8. Examine the roof drainage:
Naturally, the winter months will bring frigid temperatures. But there will also be a lot of wetness to contend with. Unless your roof has leaks, you shouldn't have to worry too much about flooding or water pooling.
Prepare your flat roof for winter:
Water that accumulates on a flat roof is difficult to remove. It can cause leaks and compromise the roof's durability. Here are a few tips you can follow to make sure your flat roof drains during the winter. Make certain that there is no leak or other type of roofing emergency. 
1. Interior drains
These drains are set up and arranged on your flat roof in a manner similar to a floor drain. A grate covers the top to catch any leaves or other debris while still allowing water to flow through.
This approach for flat roof drainage can be more expensive. Because the drains must be arranged to channel water away from the house from the center of the roof. This calls for some preparation, labor, and resources.
But at the end, safety comes first!
2. Scuppers:
Much like rain gutters, scuppers are designed to drain water away from the walls of the structure. They prevent the foundation from flooding.
There is no need for rain gutters when you have scuppers. Because a flat roof has less drainage than a pitched roof does, and scuppers perform better.
3. Gutters:
Rain gutters are a common household item. These are helpful roof attachments. Gutters are especially useful during the winter when there is a lot of rain and runoff. The simplest and most affordable flat roof drainage method is rain gutter installation.
Try these three possibilities and then talk about them with a roofing specialist before winter arrives. If your home has a flat roof and you are worried about drainage and runoff – contact us and get a free roofing inspection.
Crucial roofing information for homeowners for winter
Whether your roof has a warranty or your insurance covers damage to your roof from winter or other uncontrolled events. You should be aware of what is covered before any damage occurs in the winter.
The standard guarantee duration for shingled roofs is 30 years. Maintain a record of all maintenance, including repairs and inspections, for your roof warranty. If you don't clean your roof regularly, your warranty may be void.
Normally, only vandalism, fire, and severe weather occurrences like tornadoes and hurricanes are covered by insurance companies when it comes to roof damage.
As a result, they only offer coverage for risks outside your control. Because regular roofing maintenance in winter or other seasons is your responsibility. If you can prove that you maintained the roof properly, your insurance provider might cover leaky roofs.
Do roofers work in winter?
Winter can be tough for roofers. Though it's cold outside and there might be snow or ice on the roof, many roofers can still work. Some roofing companies specialize in winter roofing. 
Working conditions can vary depending on the weather, so safety is always a top priority. As well, if possible, schedule roofing work when weather conditions are mild and favorable for work.
Damage to the roof can quickly progress from a simple repair to a total replacement. 
Any problems with your roof that a homeowner would miss can be found during a professional examination. If there is a leak or other issue, correct it before a severe winter storm. Your roof should be inspected by a qualified roofing firm at least once every year. You can contact us to book a free roofing inspection and get your house ready for winter.
Roofing in winter: Wrap up
To protect and insulate the house during the frigid winter months, a sound roof is crucial. Therefore, before the weather gets cold, homeowners and roofing contractors should inspect the state of the roof. If you neglect to inspect your roof before winter, many problems could occur.
The problem can be more difficult and expensive to solve in the cold than it is before it starts to snow. Roofs that can withstand freezing temperatures are preferred because wintertime repairs take longer. If you have any concerns or need help attempting any of the suggestions above, contact us so we can assist you!