46 percent of US homes have seriously considered installing solar panels. Since most consumers are inexperienced with solar technology. They are hesitant to choose a solar installation company.
Every homeowner needs to contact a plumber at least once. However, they haven't dealt with solar. Do you know how to identify a trustworthy solar installer? What queries should you make? 
If you're one who is confused about how to choose the best one, then this post is for you. In this article, we'll go over the top ten attributes to look for when choosing a solar panel installer.
Key takeaways:
Look for a company with a proven track record of installing solar panels successfully.

Choose a company with a good reputation in the industry and among its customers.

A solar installation company should be well-organized and communicate effectively.

Technicians should be knowledgeable and skilled and can answer your questions and concerns.

Make sure the company uses high-quality solar panels and other equipment from reputable manufacturers.

Go for installers who can tailor a solar panel system to your specific needs and budget.

Consider a company that offers flexible financing options, such as a lease or purchase plan.

A company with a strong customer service team that is responsive and helpful is preferred.

Hire a firm that offers a good warranty and maintenance program to ensure the long-term performance of your solar panel system.

Sustainability and reducing its environmental impact must be the solar installation companies' priority.
Learn how to find the best solar installation company
Solar panels are great choice to save money on high utillity bills. There are other many benefits to install solar panels.
You're ready to install solar panels and generate your own green energy. You've got to choose a solar panel installation company in Texas that can help you with everything. But you need to make sure you choose the right solar installation company. 
Your new solar panel system will get you the most value for your money. 
Let's start by saying, "Don't be nervous!". It's like hiring anyone for a home improvement project. 
With a bit of research and the right questions, you'll be fine with solar. Choosing a solar installation company and avoiding a bad one is easy with these 10 tips:
1. The credibility and experience of the solar installation company
Look for a solar installation company with experience and a good understanding of the process. A good rule of thumb is to work with installers who have at least three years of experience. 
Check how long they've been around and how many solar energy systems they've installed. In fact, ask several questions, such as:
What packages do they offer, and why?

Do they know what solar incentives you qualify for?

If a gear or energy system fails after installation, what are your warranty options?
Your solar installer company's standard is based on whether it has passed the NABCEP or not. The North American Board of Certified Energy Practitioners (NABCEP) is the biggest standard certification program around. 
If you want to hire a top-notch solar installation company, ask them for this certificate. Look at solar business reviews, especially for companies without NABCEPs.
2. Insurance and licenses
A good solar panel installation business has the right licenses and insurance to do the job. Also, your solar installation company must have three years of experience. Make sure they're licensed and insured. 
The good way is to check if they're NABCEP-certified as mentioned earlier. With NABCEP certifications, you know they're qualified to handle renewable energy. Find out what your state's solar licensing requirements are at the Interstate Renewable Energy Council (IREC). 
There are some states that require specific solar installation licenses. Others might allow contractors with electrician licenses to install solar panels. In certain conditions, a general contractor's license serves the purpose. 
Some states don't even require a license.
Get the company's license number if you need one. You don't have to eliminate a firm because of a complaint. If you have questions about a reported violation, ask the firm.
3. Check work references and photos availability
If you're exploring different organizations, get images and references from previous customers. Once you see that they've installed multiple solar panels, you'll be able to judge their competency.
Feel free to ask if you can see the panels when they're in use. It's also worth talking to past customers.
4. Market reputation and reviews
To evaluate solar installation companies, you can look at reviews from previous cents. Customer ratings and reviews are important indicators of customer satisfaction. It's possible to find out whether your installer is questionable based on ratings and reviews. 
If you find several complaints, switching companies is likely to be the smart choice. Be sure to check out different websites to ensure they are receiving widespread attention. You can sift through reviews and search for keywords if you have a specific problem.
5. Don't pick a solar installation company based on price
You don't have to buy the cheapest solar power system to save money. Equipment and installation don't come with the same quality everywhere. You won't know if your preferred installer is also the cheapest unless you compare offers.
On the other hand, choosing the most expensive installer also doesn't guarantee quality. 
Choose your solar installation company wisely. As mentioned earlier. Look for credibility, experience, and reviews.
6. Deals with roof-related issues
The condition of the roof is one of the first things a solar installation company should check. You may need to repair your roof before installation. Make sure you know who's responsible for roof damage or roof leaks.
In most cases, roofs have vent pipes. You might not like it if the installers place the panels around these vents. If your roof needs to be fixed and your vents are protruding. Ask for the vents to be relocated to a location with no solar panels. 
In some cases, your roofer may install low-profile vent apertures behind solar panels. Request a quote that includes roof repairs and vent relocation.
7. Workmanship warranty of your solar installation company
A solar panel contains several components. Each of these is covered by a manufacturer's warranty. Ensure that the installer explains every step to you. Solar panels come with their own warranty, which is usually divided into two parts:
Material and workmanship

Power output.
There should be a guarantee on the workmanship and solar power system components. As well as labor and replacement expenses for any failed components. It's common for solar panels to deteriorate with time, so they produce less power. 

Over time, the warranty confirms that the panel continues to produce some power. Usually, power warranties last 25 years. Furthermore, the product warranty should be at least 10 years, if not up to 25 years.

Inverters are important components and have their own warranties. It is estimated that the average lifespan is between 10 and 25 years.

The racking has to be durable enough to withstand harsh weather for decades. You should look for a guarantee that is at least 20 years long.

Will you buy batteries? It's a costly component.

The warranty should be understood, so make sure you know what it covers.
You're in the right place if a company offers extended warranties. 
8. Exceptional customer service
It's important for a solar installation company to have a good customer service department. Pay attention to how they answer the phone and how they answer your questions. Don't be scared to switch to another company if the phone operator is useless and unaware of his role.
9. Financing and leasing options
Solar panels are expensive, so you may want to look into financing possibilities. You can always get financing and maintenance from reputable solar companies.
Ideally, you'd have low credit rates, easy approval, no money down, and competitive pricing. Check out how different companies finance solar panels if you're thinking of leasing.
10. Competitive Quotes
Like a kitchen remodel, you need to get multiple quotes. There's more to it than just price comparisons. You are comparing the different offers and credentials of solar installation companies.
It's shady when people say your house is solar-ready when it's not. It's possible for a fraudulent company to manipulate production numbers to look better. Your solar system won't pay off if you ignore shading issues that reduce its output.
Competent businesses will tell you to repair your roof first. Or that you don't get enough sun for solar panels to work. If you ask them for a machine that doesn't work, they'll walk away.
However, a less conscientious company just wants to make money. So if you get three quotes, and two of them say solar won't work, but the third says it will. Go with the majority.
Bottom line on factors to see when choosing a solar installation company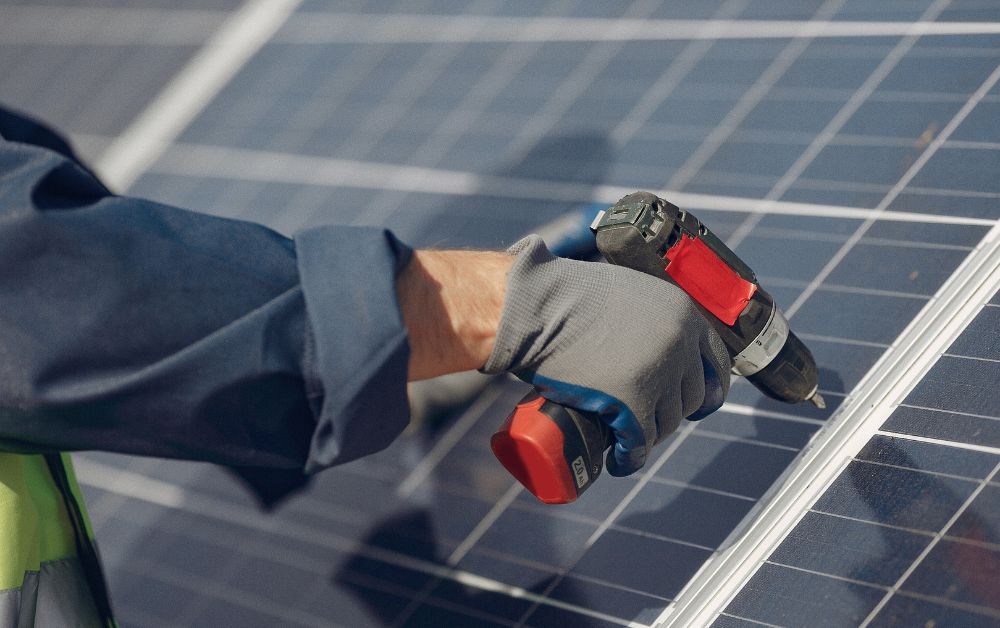 It's a smart idea to do your research and ask for references before making a decision. You may also want to consult a solar energy professional. Or a reputable third-party organization can help you find the best solar installer.
Installing solar panels costs anywhere from $11,144 to $14,696. You should be able to do it quickly and efficiently with that kind of money. But you could end up with someone who needs to be more experienced. 
When you're looking for a solar installation company near you, look for these factors  Checking all of them off means they're more likely to do it right. It's hard to beat that kind of reassurance.                                        
It's going to take the best to get the best service. If you want to book a free solar consultation with our experts click here.